Wrinkles are a fact of life, but they are still a sign of aging that nobody likes to see. If you are insecure about the appearance of fine lines and wrinkles on your skin, you may have begun to look for remedies to reduce the appearance of wrinkles.
Non-invasive wrinkle treatments, such as hydrafacial for wrinkles, can be very effective in reducing fine lines. When trying to avoid looking like you are aging, you might be tempted to try harsh treatments, but you need to be careful to avoid drying out your skin. Hydrafacial is known for its effectiveness and hydration, leaving your skin soft, supple, and youthful.
In this article, we will explain how hydrafacial helps to reduce the appearance of fine lines and wrinkles and promotes smooth, youthful-looking skin.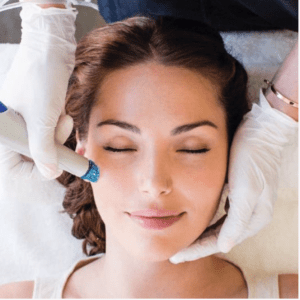 Hydrafacial for Wrinkles
What is A Hydrafacial?
Hydrafacial is an elevated facial brought to you by patented technology. The process of a hydrafacial is brought to you by a wand that is attached to a machine. The wand has different tips which allow it to exfoliate, extract, and deliver serums to your skin. The suction element of hydrafacial is gentle rather than tough on your pores due to the addition of serums and liquids in the process.
You can expect a hydrafacial to take roughly half an hour to complete and all three steps: cleansing, extracting, and hydrating. The treatment is delivered by skin care clinics and is typically provided by highly-skilled skincare professionals.
What are the Three Steps of Hydrafacial?
There are three steps of a hydrafacial, which work together to deliver remedies to a wide variety of skin problems, imperfections, and impurities. As we mentioned, these three steps occur in order as part of a complete process.
hydrafacial for wrinkles: The First Step
Cleansing is the first step of a hydrafacial for wrinkles and consists of both exfoliating and cleansing. Many people compare this step of hydrafacial to the process of microdermabrasion if you are familiar with it. That is to say, the top layer of your skin is gently removed to remove dead skin cells, excess oils, and debris that may be sitting on the surface of the skin.
Through suction and the application of serum, the skin is thoroughly cleansed and exfoliated. The serum applied to the skin during the first step is also one of the main reasons hydrafacial is such an excellent treatment for those worried about fine lines and wrinkles.
hydrafacial for wrinkles:The Second Step
The second step of hydrafacial is extraction. This step is similar to the first step but focuses on reaching deep into the pores to help eliminate excess debris that could be stuck down within them. This step removes oils, grime, and dirt from the pores while once again delivering a serum.
This serum is a gentle chemical peel that encourages any hard debris to loosen.
hydrafacial for wrinkles:The Third Step
The third and final step of your hydrafacial will be hydration. The machine will deliver an antioxidant serum through the wand, which helps to promote healing, rejuvenate the skin, and add moisture back into the skin that may have been removed during the process. This third step is especially important for reducing wrinkles and the long-lasting impacts of hydrafacial.
How Does Hydrafacial Reduce Wrinkles?
Hydrafacial can help with the appearance of your skin in just one session, but to completely eliminate your fine lines and wrinkles, you will need more than one treatment. Consistent sessions of hydrafacial are successful in removing wrinkles and delaying the appearance of future wrinkles.
You can expect to see near elimination and a noticeable reduction in your wrinkles after six to seven sessions of hydrafacial. The consistency of receiving these treatments is important because of the delivery of the serum products and the efficacy of the exfoliating process.
The first two steps of hydrafacial help your skin to promote healing and skin cell turnover, leaving the top layer of your skin refreshed and without debris. The final step of hydration allows hydrafacial to soften your skin, directly reducing fine lines and wrinkles. The antioxidant serum works hard to plump and nourish the skin, making it appear youthful.
The hydration and boosting that the skin receives from hydrafacial are known for their efficacy at making you age in reverse!
How to Prepare for a Hydrafacial
Before your hydrafacial treatment, you should avoid using any products that may irritate the surface of your skin for two days before your appointment. This includes exfoliating your skin or using retinol products. In addition, avoid excess or direct sun exposure and ensure that you wear sunscreen on the days before your treatment.
Your hydrafacial treatment should occur in a skin care clinic, and these skilled professionals are best equipped to provide hydrafacial treatment. The environment you will receive your hydrafacial in should be relaxing, and you should expect one-on-one care from a skin care professional.
What to Expect After a Hydrafacial
After your hydrafacial, your skin will feel fully refreshed, and you might even see an immediate reduction of your existing fine lines and wrinkles. With no downtime, you can go right back to work without having to worry about recovery.
You should expect to see a reduction of your fine lines and wrinkles but not complete elimination after just one session. With multiple sessions of hydrafacial, you can entirely eliminate fine lines and wrinkles from your skin.
Conclusion
In conclusion, hydrafacial is an effective method of reducing the appearance of aging. The skin is left looking fresh, supple, and even plump with youth through hydrafacial's serums and exfoliating process. Fine lines and wrinkles are discouraged from developing due to the rich hydration and removal of dead skin cells.
Hydrafacial for wrinkles will help to keep your skin clear of imperfections, smooth of any unwanted texture, and over time will contribute to the elimination of wrinkles. If you are interested in receiving a hydrafacial treatment for fine lines and wrinkles, please feel free to contact us for more information or to schedule your appointment.