In a world where everyone wants to look their best, it's no wonder  people are constantly looking for ways to improve their appearance.  One of the most popular methods for achieving this goal is a skin tightening treatment.
Whether you're trying to lose weight, look younger, or want to achieve a more defined appearance, there are many different types of skin tightening treatments available.
This post gives you all the details about this popular procedure, how they can help you look younger and feel more confident, and what to look out for when choosing a treatment.
What is a Skin Tightening Treatment?
A skin tightening treatment is a cosmetic procedure that can be used to improve the appearance of the skin. The procedure involves applying a mesotherapy solutions and or laser to the skin to tighten the facial muscles and skin.
The result is a smoother, tighter-looking face that looks more youthful. The procedure is often used by women to combat the effects of aging and those who want to achieve a more youthful appearance.
This procedure is usually done in a medical spa or a dermatologist's office. It is usually a minor procedure, and it takes about 30 minutes to an hour to complete. The treatment is typically painless. The person receiving the treatment will be given a numbing cream to apply to the skin before the treatment begins. After the treatment is over, a light moisturizer will be applied to the skin.
Why Is It Needed?
There's a lot of talk about skin tightening treatments these days. But what exactly is it, and how does it work? They are popular with people who want a slimmer, tighter appearance. It can be used on the face or body, and there are different types of treatments available, such as laser, dermal fillers, radiofrequency, and many more. 
Similarly, some people use these to get rid of unwanted wrinkles and other signs of aging. Others use it to get rid of scars, stretch marks, and other imperfections on their skin. Still, others use them to improve the way their skin looks.
Benefits of Skin Tightening Treatments
Can tighten loose skin without surgery.

No scarring present

Many treatments can be performed in-office, with little to no downtime.

There are minimal side effects
Types of skin tightening treatments 
There are several different skin tightening treatments, and they can be used alone or together. There are laser treatments that use intense heat to destroy the fat and stimulate collagen in the skin and tighten it up. Many non-surgical procedures that utilize radiofrequency, ultrasound, and lasers have been developed in recent years to tighten the skin on the face or somewhere on the body.  While these treatments are non-surgical, they should only be performed by a licensed professional and under the supervision of a doctor. 
Radiofrequency
This type of treatment is used to tighten the skin on the face and neck area. It's a painless treatment performed in a medical office or spa, and patients can return to work immediately. 
Ultrasound
This type of treatment is also performed in a medical office or spa, and patients can return to work immediately.  It uses ultrasound energy to heat deep layers of the skin, helping to stimulate collagen and elastin production.  It also improves the appearance of cellulite.
Laser Skin Tightening treatments
Laser skin tightening is minimally invasive. Here doctors use handheld lasers to send heat deep into the skin. This destroys the outermost layer of the skin, the epidermis, to reach the dermis. 
Laser skin tightening is especially effective for the stomach and arms. In addition, other areas that can be treated are the neck, face, and jawline. Laser skin tightening is ideal for patients between 30 and 65. 
At En Santé Clinic & Medical Spa, we are pleased to offer the Fotona 4D to clients who want a non-invasive, effective skin rejuvenation procedure.  
What Is Fotona 4D Facelift: Skin Tightening TREATMENT
At En Santé Clinic & Medical Spa, we utilize the Fotona 4D to treat the signs of aging. This treatment tightens the skin, reduces pores, lessen wrinkles, improves texture and tone, and gives the skin a smoother finish. 
It works deep into the skin's layers to achieve maximum natural results. The new 4D Facelift integrates up to four different modes of treatment: Smooth®, Frac3®, Piano®, and SuperficialTM, to treat a wide range of skin imperfections associated with aging.. These 4 different modes of treatment are:
SMOOTHLIFTING™
Reduces lines and wrinkles around the mouth and the nasolabial folds using gentle bulk heating to produce collagen.
FRAC3® Rejuvenation
A practical fractional treatment ideal for pigmentation and redness. 
PIANO® Skin Tightening treatment
The laser lifts tighten and firms the skin by heating bulk tissue safely 
SupErficial™ Light Peel
Lastly, the light peel removes dead skin cells, smooths out uneven skin texture, and reduces imperfections.
What Should I Expect?
With Fotona4D®, you will experience a smoother, more youthful appearance in as little as 30 minutes, with little or no downtime or discomfort. You will notice a fresher, more youthful appearance immediately following the procedure, but the full effect appears over time.
Before & After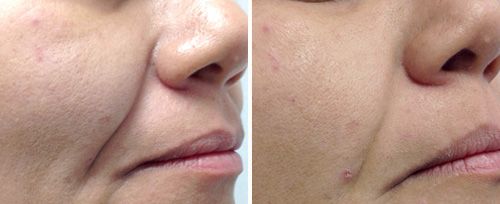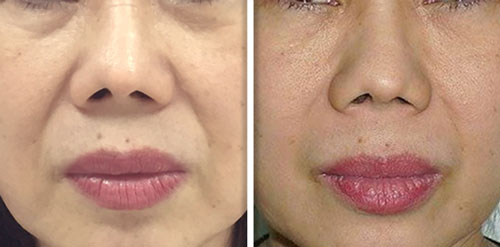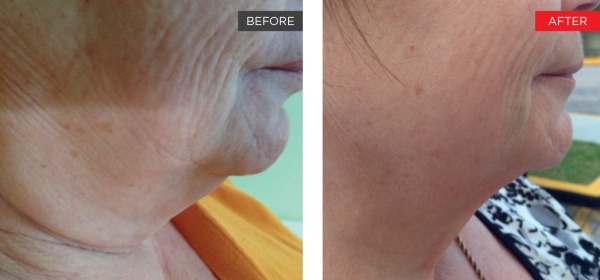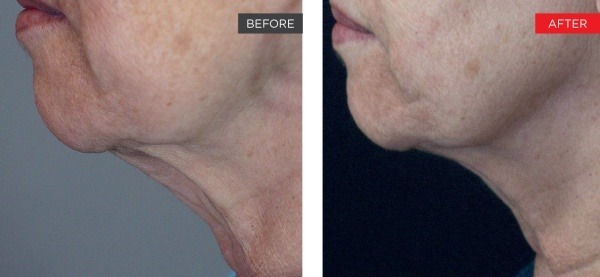 FAQs of Fotona 4d Facelift
How many sessions will I need?
We recommend at least three to 6 sessions spaced 4-6 weeks apart which is recommended for the best results. generally an extra session for every decade in age so a 30 year old needs 3 treatments and a 40 year old will need 4 treatments.
How Long Will Results Last?
Depending on the condition of the skin and the after-treatment protocol, results may last up to 6 – 12 months.
Who Is an Ideal Candidate?
Anyone who wants non-invasive, effective skin laxity and other aging issues is a good candidate.
Contact US
Sagging skin can be a significant source of embarrassment and insecurity, particularly as we age. If you're looking for a reliable and effective non-invasive way to tighten up your skin  our team can help. Make sure to contact us at care@ensantemedicalspa.com or call us at 703.888.8589.