Hydrafacial is a popular skincare treatment that is provided at skin care clinics around the world. With its patented technology, the facial treatment helps to cleanse the skin and promote the appearance of youthfulness. But did you know that hydrafacial is also excellent for boosting collagen in the skin?
Through the three steps of hydrafacial for boosting collagen, the body is encouraged to produce more collagen and send it toward the skin. There are numerous benefits to increasing collagen production for the hair, skin, and nails.
In this article, we will discuss what hydrafacial is, how it can help boost collagen production, and what this increase in collagen does for the skin as a result.
Hydrafacial for Boosting Collagen
What is Hydrafacial?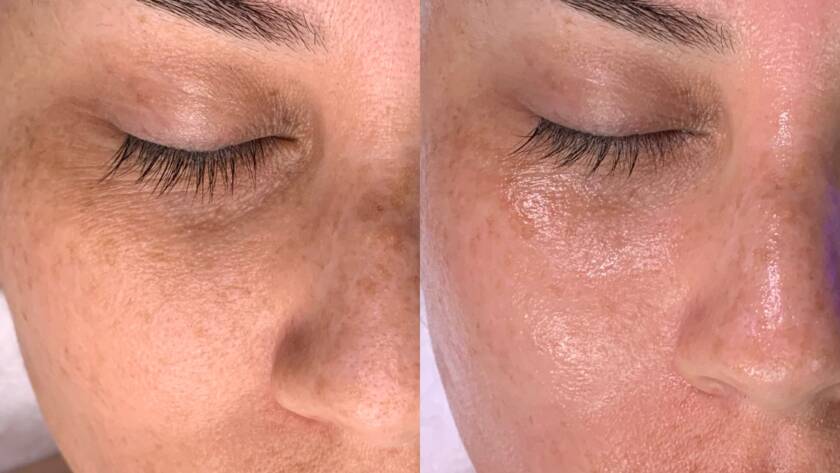 Hydrafacial is a machine-delivered facial treatment that specializes in removing dead skin cells, clearing the skin of debris, and adding hydration to it. There are many benefits to receiving a hydrafacial, including reduction of acne, fine lines and wrinkles, and dark spots. These benefits are encouraged through a three-step process to cleanse and exfoliate, extract imperfections, and add antioxidants and hydration to the skin.
The treatment takes roughly half an hour to an hour on average and will leave you with a no-downtime non-invasive skin treatment that encourages clear, clean, and youthful skin in addition to boosting the production of collagen.
What is Collagen?
Collagen is a protein that is commonly associated with aging. When the amount of collagen in the body is reduced, we see the effects of aging more clearly. This is because collagen is a structure that provides support to your skin, tissues, muscles, and even bones. With reduced collagen, the appearance of wrinkles will begin.
Collagen helps new cells to grow, including replacing those cells that have died. This means that on the skin, collagen is responsible for aiding cell turnover. With lower levels of collagen, you will notice a dull appearance to your skin as opposed to a fresh and clear one.
Because of this connection between a reduction in collagen and the process of aging, collagen is a popular supplement that people seek out. There are other ways to encourage the body to produce more collagen, however, and hydrafacial is one of the ways to do so.
How Does Hydrafacial for boosting collagen work?
Through the three steps of hydrafacial, collagen is not only boosted, but the effects of lower collagen are combated. As we mentioned, lower collagen can leave dead skin cells unreplaced and sitting on the surface of your skin. Through steps one and two of hydrafacial, dead skin cells are removed, and the next layer of skin is exposed.
The exfoliating process will stimulate the production of collagen. This is because there are minor "wounds" that are inflicted on the skin when you remove the top layer of the skin. Collagen is produced by the body as a response to these "wounds," which are very minor. However, the body doesn't know that, so this extra collagen will not only heal the results of exfoliation but deliver extra collagen to the skin.
In addition, the serums that are used in combination with the hydrafacial machine have ingredients that have been known to encourage both collagen production and elastin production for additional growth and skin tightness.
There is also a portion of hydrafacial that is an optional additional treatment. This optional treatment is LED light therapy, which emits frequencies that promote an increase in the production of collagen in the skin. With targeted LED light therapy, collagen will move toward the face.
What Are the Benefits of Hydrafacial for Boosting Collagen?
Increased collagen in the skin helps to reduce skin elasticity, the effects of aging, and more. Studies have shown that having more collagen in your body as you age will slow the effects of aging. You can see a reduction in the deepening of fine lines and wrinkles. These are also unwanted skin imperfections that hydrafacial can help to eliminate through its exfoliating power.
Skin hydration is another way that your skin is impacted by having more collagen. Hydrated skin is healthy skin, and it also appears fresher and smoother than dry skin. Having hydrated skin can help provide an anti-aging effect because of the clear, youthful glow that your skin will have.
There are questions surrounding the efficacy of taking collagen as a supplement, including questions on whether or not the collagen that you take as a supplement is helpful in targeting the skin. Through hydrafacial for boosting collagen, you can rest assured that your body has been told to make its own collagen rather than getting it from a separate source. The collagen produced will also be directed toward the skin of the face, which means that you can target the face for its anti-aging effects.
How to Prepare For Your Hydrafacial and What to Expect
If you are hoping to see a reduction of existing wrinkles or aging effects, you will see initial results after one session. However, depending on the condition of your skin, you might need to attend multiple hydrafacial sessions to see desired results. Also, the more you have hydrafacial done on your skin, the more collagen your body will produce.
Before your hydrafacial for boosting collagen, you should avoid using any harsh or irritating products on your skin for two days. These include exfoliations, chemical peels, or any products you may have never used before. You should also avoid excess sunlight for the risk of sunburn. After your hydrafacial, you should also avoid excess time in the sun and apply sunscreen daily to avoid a sunburn on your fresh layer of skin.
Conclusion
In conclusion, the boosting of collagen has numerous benefits for the skin, and so does hydrafacial. While your skin benefits from the direct results of the treatment, you will also see the anti-aging effects of increased collagen for your skin.
If you are interested in more information on hydrafacial or you would like to schedule an appointment with us, we would love to hear from you. Click here to get in contact with our clinic and begin your journey to clear, youthful skin.