Dark spots can occur on your skin for various reasons, leaving the skin's surface looking uneven. Unwanted dark spots usually inspire people to seek out painful laser procedures to remove them. But did you know that a non-invasive facial cleansing treatment can help reduce your dark spots?
It's true! Hydrafacial is an elevated facial treatment that can minimize the appearance of dark spots, promote skin surface renewal, and even balance your skin tone. In this article, we will discuss what hydrafacial is, how it can help dark spots, and what you need to know before you receive a hydrafacial treatment.
Hydrafacial for Dark Spots
What is a Hydrafacial and How Does It Work?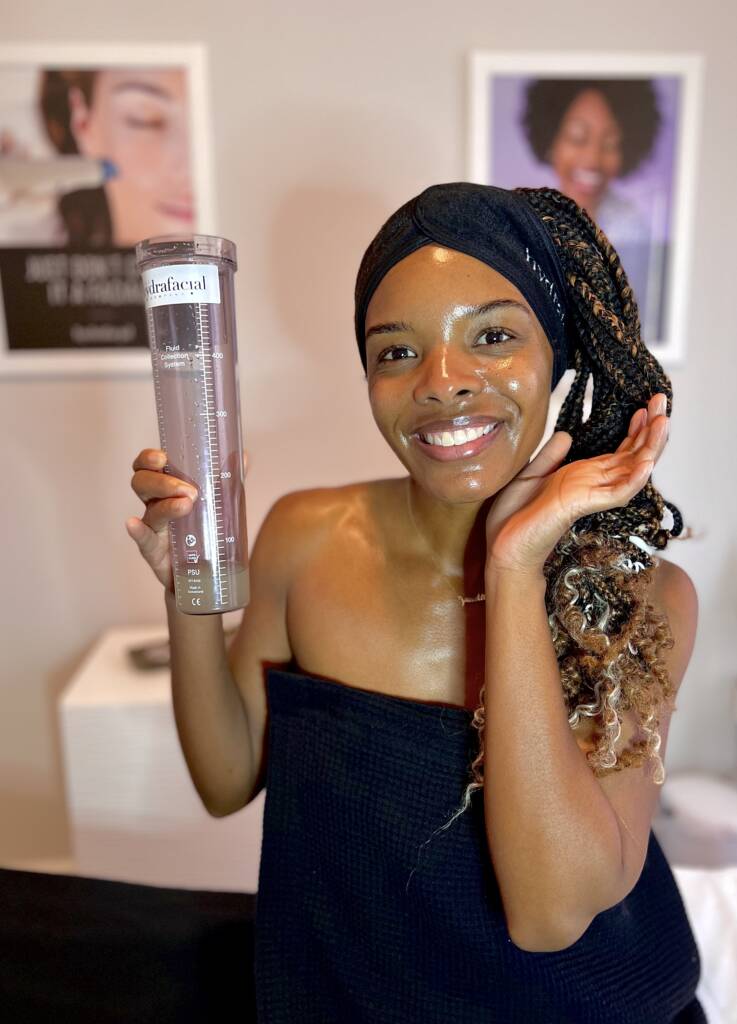 Hydrafacial is a skin care treatment that uses patented technology to deliver actual skincare results through treatment sessions that last under one hour. The technology consists of a wand attachment hooked up to a machine that uses suction to remove debris and also applies carefully perfected serums to the skin.
There are three steps to a hydrafacial for dark spots which your skin care professional will move through in order to deliver your treatment. These steps are known as cleansing, extracting, and hydrating. Through these three steps, you will experience the exfoliation of the top layer of your skin, the deep cleansing of your pores, and the resurfacing and healing powers of the serums.
What Are the Three Steps of a Hydrafacial?
Each of these individual steps helps to contribute to the reduction of dark spots without the need for laser treatment. With the hydrafacial machine, your skin care professional will move from step to step as they have been trained to do. Let's discuss the individual steps and what they do for your skin.
The cleansing step works similarly to how microdermabrasion treatments do. An exfoliating tip is used on the machine, which uses suction and serums to cleanse the skin deeper than you can with an average face washing at home. The top layer of your skin will be left smooth as a result of the removal of dead skin cells that are on the surface of your skin.
The second step, also known as extraction, uses the delivery of a gentle chemical peel to break down debris that is even deeper within the pores. Suction is also used in order to excise this debris and clear the pores of anything that may be contributing to enlargement. This process encourages skin turnover and signals to the body that it should get to work on creating new skin cells on the face.
The third and final step of hydration uses a specialty antioxidant serum to hydrate the skin and ward off any irritation that may have occurred throughout the process. This serum promotes healing and rejuvenates the skin.
How Does Hydrafacial Reduce Dark Spots?
There are a few ways that hydrafacial is able to address unwanted pigmentation, such as dark spots. One of these ways is through the exfoliating process that occurs during step one of a hydrafacial.
By removing the top layer of the skin, full or partial removal of dark spots can occur. This is because dark spots very rarely are deep within the skin's layers. In this way, you can expect to see complete and total removal of your unwanted hyperpigmentation in one or more hydrafacial sessions. Your skin care professional will be able to approximate how many hydrafacial sessions may be needed to reduce the appearance of your unwanted dark spots.
Secondly, the process encourages the turnover of skin cells, contributing to brighter and clearer skin showing through over time. The appearance of more radiant and refreshed skin is something that you can see after just one treatment of hydrafacial.
What Are the Benefits of Hydrafacial for Dark Spots?
Hydrafacial specializes in removing unwanted imperfections of the skin. From acne to wrinkles to dark spots, the encouragement of skin turnover and the removal of dead skin cells will contribute to newer, fresher layers of skin being on the surface of your face.
This method of removing dark spots is considered gentle and non-invasive and therefore is recommended for addressing your dark spots. Other treatment methods may use harsh chemicals to remove layers of the skin to reduce these spots, which can leave the skin irritated and dry as a result. Instead, hydrafacial caters to your skincare needs while gently removing dark spots.
How to Prepare for a Hydrafacial for Dark Spots
In preparation for your hydrafacial, you should consult with a skin care professional to determine how many sessions you should expect to undergo to see results for your specific dark spots and/or hyperpigmentation. In addition, you should avoid using anything on your skin that may irritate it within two days before your treatment. Also, avoid excess sun exposure and be sure to wear sunscreen to prevent sunburn.
What to Expect After a Hydrafacial for dark spots
After your hydrafacial, you should see immediate results of clean, clear, rejuvenated skin. Depending on how deep or significant they are, you might not see the complete removal of your dark spots. However, after multiple sessions, you will see the reduction of your dark spots through hydrafacial. You will also receive the other benefits of hydrafacial, which include reducing fine lines and wrinkles, fewer blemishes, and gorgeous skin.
Conclusion
In conclusion, hydrafacial for dark spots is an excellent solution for the appearance of dark spots. Not only can the treatment effectively reduce the appearance of your dark spots, but your skin will also reap the additional benefits that come from hydrafacial. With clean, youthful-looking skin, fewer blemishes, and a reduction in your unwanted dark spots, you will gain more benefits from choosing hydrafacial over other skincare treatments.
If you are interested in scheduling an appointment for a hydrafacial treatment to reduce your dark spots, click here to get in contact with us. We would love to help you come up with a pan to have the skin of your dreams.