There are endless aesthetics procedures and countless clinics, spas and salons to go to. At En Sante´ we have curated a short list of highly effective procedures aimed at getting you the most natural and best results. Your doctor will formulate a customized plan for you during your consultation.
-Maintaining healthy, glowing skin
Not all facials are made equal.  Facials when done right may be all some women need to maintain healthy skin and slow down the aging process.  At En Santé Clinc & Med Spa, we have formulated a unique facial protocol that allows deeper penetration of nourishing and hydrating serums into the dermis.   Regular use of our facials help reduce pores, clarify tone and improve elasticity of the treated area.
-Time honored regimen for skincare
Peels are a great way to reset your skin.  Peels are safe when performed by professionals with a deep understanding of skin types, the pathophysiology of skin conditions and the best peel type for treatment.  Your skincare specialist will recommend a customized plan and regimen for your skin after a comprehensive consult and evaluation.  We have carefully selected peels what produce consistent and measurable improvement in skin texture and tone.
-improve volume and reduce wrinkles
Botox and dermal fillers are the most popular or sought after cosmetic procedures.  Regular use of Botox and fillers is a reasonable way to reduce and slow down the aging process.  It is quick and has no virtually no down time which makes it appealing to busy professionals who do not want to have to deal with lost time after procedures.  The options for neutrotoxins and dermal fillers continues to expand with newer brands such as Dysport, Xeomen, Sculputra, Belotero and Versa.
-Collagen induction therapy
Mironeedling is a quick and easy skin rejuvenation procedure that is safe and effective for all skin types.  Make up can be applied after 24 hours and there is minimal to no visible trauma after the procedure. Microneedling combined with (Platelet Rich Plasma (PRP) and mesotherapy can produces results comparable to laser resurfacing.  Sterility and aseptic technique is paramount to patient safety and efficacy of results when performing microneedling procedures.
-Collagen induction therapy
Platelet rich plasma is an innovative procedure that uses your own platelet derived from a blood sample to stimulate the natural healing process and increase collagen production.  PRP has little to no downtime and can be safely combined with other treatments to enhance results.  PRP combined with Microneedling is synergistic and accelerates collagen production.  Regular micronneedling regimen combined with a well tailored skincare regimen may avoid the need for more invasive procedures and surgery later in life.
-Fine touch for smoother softer skin!
Aquagold combines microneedling with mesotherapy to produce unparalleled results.  The vial comes with a one time use disposable gold plated microneedle filaments that deliver bioactive nourishment into the subdermal tissue to stimulate collagen production which improves skin texture, patch skin discolorations and laxity.  Regular use may reduce wrinkles and fine lines.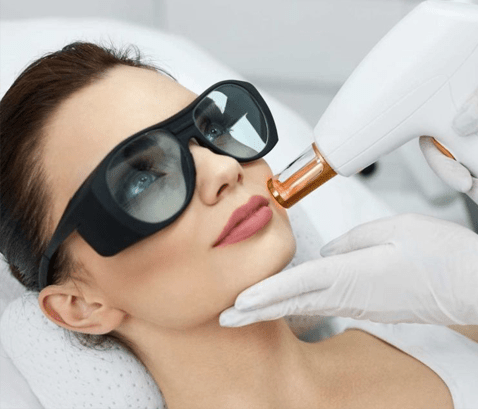 Laser & Radio-frequency for Skin
-to improve texture and tone
Pico laser technology and radiofrequency regeneration can help reduce fine lines and wrinkles by removing superficial dead cells while stimulating collagen and fibroblast development to minimize and improve skin texture and tone.  Laser and radiofrequency treatments are safe for all skin types provided proper precautions and considerations are made based on skin type, lifestyle and personal habits.
-When a little nick goes a long way
Nonsurgical face lift is a great option for those with mild to moderate sagging or deep lines who are looking for a natural and youthful look without major surgery.  The best results may be achieved using a combination of  thread lift, dermal filler, PRP and microneedling depending on what needs tightening and lifting and the severity of the area of  concern needing to be addressed.  Thread lift has the ability to induce collagen production which makes the benefits from the procedure last about a year or two.
-for the benefit of quick recovery
Minimally invasive surgeons have specialized training and advanced surgical techniques that enables them to perform operations efficiently and with minimized trauma to tissue.  This allows for faster recovery, less pain after surgery.  Mini makeovers typically employ smart liposuction, fat transfer, radiofrequency collagen induction and skin tightening, procedures to achieve a reasonable desired result.